I have to apologize in advance because I didn't take many pictures of the process I went through. Ok, I didn't take any pictures. I know, I suck.
Anywho, I started out with this cabinet door in the reject...er, clearance section at Ikea.
And at $3 bucks, how could I resist?
I truly had no stinkin' clue what on earth I was gonna do with it, so I painted it Rustoleum's Heirloom White. I think we could all agree that's a safe bet. But it looked totally boring after I painted it and inspiration still wasn't striking, so I got out my Minwax Dark Walnut stain to give it some age, but my silly self didn't wait for the Heirloom White to fully dry before doing so.
Oops!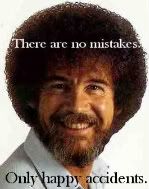 But to my surprise, I actually like the way it looked! Ok, this is where I'm supposed to have a picture of what it looked like, but I'm kinda lame and didn't take a picture =) But I sure will try my best to describe what it looked like. Ok, close your eyes and imagine completely weathered barn wood with a grey tinge to it. Yeah, it looked pretty cool. Only prob was that I didn't get the stain in the cracks, so I had to go back later (let it dry at least 24 hours) and get the stain in all the nooks and crannies with a Qtip. I accidentally got stain all over the place ('cause sometimes I'm just messy like that) and I kinda sorta ended up doing another coat of stain on the whole door.
Again, a happy accident. The second coat was much richer and less weathered-looking, but I do have to note that it took about 2 days to fully dry, which is like, forever for impatient DIYer's like myself.
Once it was dry, I added 3 knobs (that match my
tv stand
). Super easy!
I'm thinkin' since there is so much empty space above the knobs, I will decorate it with seasonal decor.
What would you do with the empty space? I'm not really inspired by anything right now so I would love to hear what you would do and possibly get some ideas.